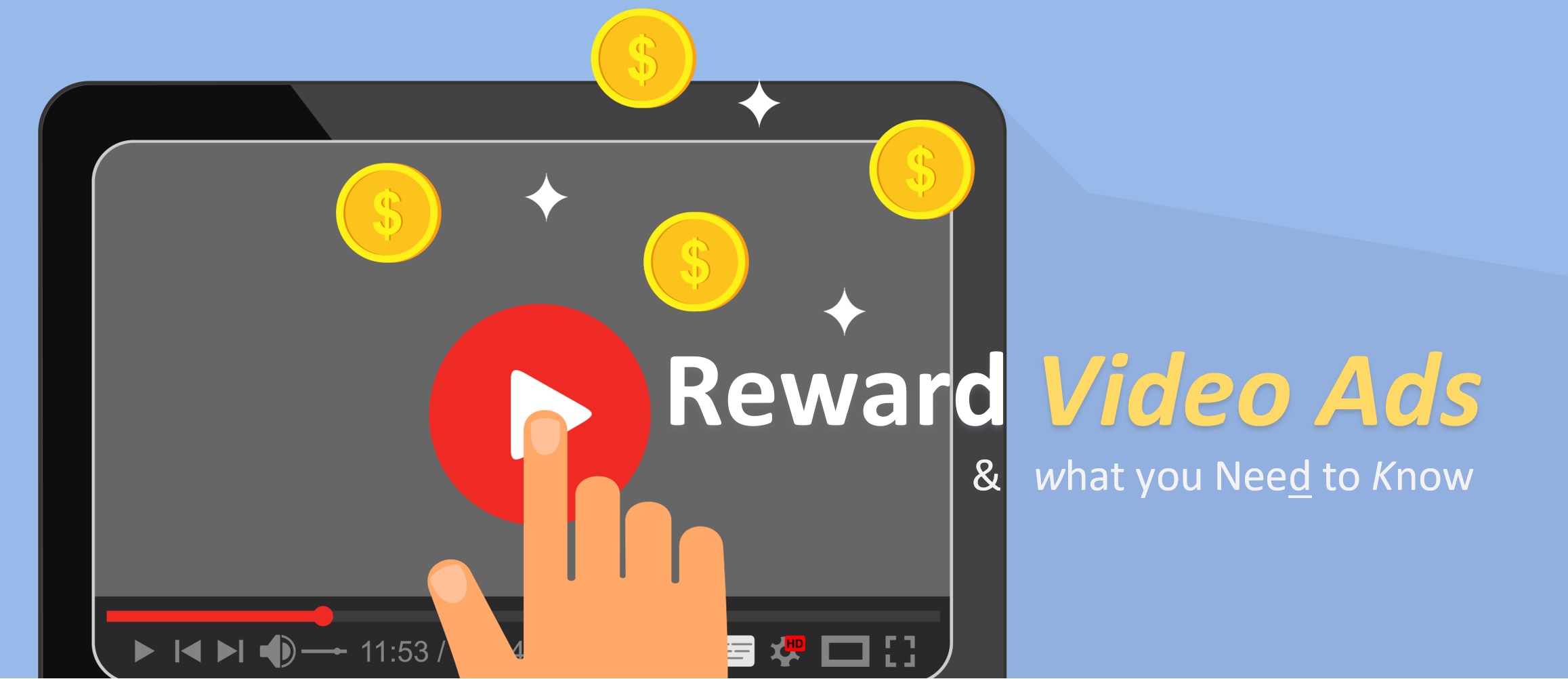 Marketers are using rewarding video ads to crack the code of delivering an advertising experience that continues to be engaging. Here's everything you need to know about reward video ads and how Applixir applies it in the most natural form.
The gaming industry has passed through a tectonic shift in the past decade, brought about by the smartphone revolution. Mainstream gaming is no longer restricted to the billion-dollar PC and console gaming space, with mobile gaming alone amounting to a whopping $150+ billion. In stark contrast to PC and console gaming, where the revenue largely depends on upfront purchases and premium subscription services, mobile developers have found a way to keep the entry open to all users, but without sacrificing their earnings.
A significant chunk of earnings through mobile games does not come through paid apps, but the freemium and ad-based model. To keep the app free while letting the game developers reap the benefits of their hard work, the concept of opt-in ads has garnered popularity. Some of the big names in the mobile games, such as Fortnite Epic Games and Candy Crush Saga by King, have employed an identical, tried, and tested advertisement method, known as reward video ads.
What are Reward Video Ads? 
Reward video ads are short videos placed within the gameplay or at the end of a level, in the form of an opportunity to improve the game. The reward for games would usually be in the way of an extra life to complete the level, some unlockables, and items such as free coins, new stories, power tools, and more – all of which is unlocked after watching a short video ad from the sponsors.
How effective are Reward Video Ads?
Based on a market survey conducted by Unity3D, it is clear how effective the reward video advertisements strategy is:
The free + ads model trend continues to grow as more than 70% of users prefer in-game ad videos over the traditional premium or in-app purchase model.
User retention has been reported to increase under the reward ads model, as reported by more than 60% of game developers.
When directly asked about their preference, around 55% of users agreed to reward video ads as their in-game video style.
Out of the user base, more than 60% chose to actively engage with reward video ads for the added benefit of unlockable content and features.
The Benefits to the User
A right step towards tolerable and engaging advertisements, reward video ads has helped keep the user experience optimal.
When the user is incentivized to watch an advertisement video in return for in-game unlockable content and other rewards, they are more likely to be engaged with the content.
The unlockable content such as coins, extra lives, and limited-edition objects, often enhance the gameplay, giving the users an edge over others.
When deployed using a suitable partner such as Applixir, the reward video ads tend to be appealing to users since they are designed to be an extension of the game itself.
The Benefits to the Developer 
Developers prefer reward video ads since they minimally impact the gameplay quality, while advertisers love them for the significantly higher engagement rate that they offer.
Reward ad videos have been surveyed to provide some of the highest eCPMs (effective cost per mile), being more than two times higher than the other video advertising formats.
These ads are shorter and opt-in, ensuring that the gaming experience is not altered, which is quintessential to game developers, creating a unique experience for the audience.
Online Soccer Manager – Reward Video Ads Done Right
To test out the theory of how effective reward video ads can be for the end-user, we decided to try out Online Soccer Manager by Gamebasics BV. The virtual football management game has been downloaded by more than 10 million users and manages an active, positive feedback rating of 4.4 stars on the Google Play Store.
As a user, once you've signed up for the game and select the football team you wish to manage, there is a slew of in-game purchases that are offered. Club Funds are the e-currency you require to sign up players to your football club, while the Boss Coins enable you to unlock various objects such as limited-edition jerseys.
There is no interference from pop-up advertisements whatsoever during the gameplay, and every time we, as a user, chose to watch a 15-second ad, there was a reward waiting in return. Albeit, there isn't a way to exit the opt-in advertisements once you've played them, but you still get a mute button to make the video ad even less intrusive.
How AppLixir Brings High-Quality Reward Video Ads
The Online Soccer Manager is just one of several mobile game titles that implement AppLixir platform for reward video ads. Supporting a game developer base of 100+, the name has become synonymous with high-quality reward video ads that benefit the user and developer and the ad publishers.
Higher Engagement & Session Time
Surveys suggest that after the first rewarded video engagement, users are likely to spend even more time on the app since they have already accumulated digital currency that permits them to interact with premium content within the game.
Improved Retention Rate
AppLixir implements rewarded video placements as a core aspect of a game's primary engagement loop. Rewarded videos can foster scheduled engagement habits among users, which results in improved retention metrics.
Higher Ad Revenue
AppLixir rewarded video ads increase overall ad revenue and provide one of the highest eCPMs for game developers and publishers. The rates are dependent primarily on audience location, but in the North American region, AppLixir rewarded videos generate an average eCPM of $6 – $10.
Better Conversion Rate & In-App Spends
Once a user gains premium content from rewarded video ads, they are more willing to purchase in-game money and bonuses since they've been able to catch a slice of that premium content and effectively understand the value it offers. Applixir also assists publishers to leverage rewarded video in sequence with mobile offer walls, which further increases the overall revenue.
Final Words
Video advertising has been an integral part of mobile advertising for years, owing to the higher engagement rate it brings back. In recent times, the anti-ad sentiment has grown among consumers, reflected in the meteoric rise of on-demand services such as Netflix and Amazon Prime Video.
Hence, reward video ads have come into play, designed to make in-game ads an opt-in feature but one that gives back to the user. Applixir is here to bring the power of reward video ads and the host of benefits it brings to the user, the developer, and publishers.